Faisons le plein de news de The Bombist, label des musiciens et producteurs français Bost & Bim. Ceux-ci présentent tout d'abord le "Words of my mouth" riddim (10 inches), qui un recut du riddim du cultissime morceau de Sangie Davis. On le découvre avec la version d'Earl Sixteen:


Tracklist:
A1 Omar Perry "Love inna mi heart"
A2 Dub version by Fabwize
B1 Earl Sixteen "Words of my mouth"
B2 Sax version by Bost

Le combo propose également le volume 3 des LP "The Bombing" (The very best of Bost & Bim riddim) avec une bonne selection de bombes:

1-Lil' Kim - Lighters Up
2-Robin Thicke - Lost Without You
3-Daft Punk - Harder Better Faster Stronger
4-Flo Rida & T-pain - Low
5-Beyonce - Ring The Alarm
6-Jay-z - Roc Boys
7-Busta Rhymes & Mariah Carey - I Know What You Want
8-Usher - Love In This Club
9-Pink - Get This Party Started
10-Drake Ft. Kanye West & Lil' Wayne - Forever
11-Justin Timberlake - My Love
12-Tupac - Smile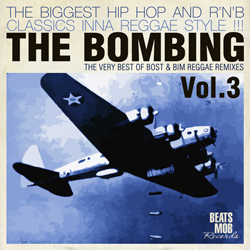 A vos bacs donc!